Thank you for inquiring about our available yorkies for adoption.  Florida Yorkie Rescue is an all-volunteer private rescue organization funded by donations and adoption fees. Our goals are to educate pet owners about responsible dog ownership, particularly with Yorkshire Terriers and to place homeless yorkies in new, forever loving homes. Our application is designed to match dogs with the best possible homes in order to ensure a lifetime of happiness for both the dog and you, the owner.

Potential adopters must follow our adoption process, which includes adoption application, an interview, reference check and a home visit. It is best to be approved BEFORE you find the dog that you want so that when he or she comes along, you will be ready to adopt. We do not adopt to homes outside our area nor do we ship yorkies to any location. Also be aware that in order to complete the adoption process, we must have volunteers in your area to do the required home visit. Adoptions cannot be completed if we cannot do a home visit.

OUR ADOPTION PROCESS:

1. Submit an application.  Our application must be competed in full. Incomplete applications will not be accepted.

2. A Florida Yorkie Rescue volunteer will verify your veterinarian as listed on your application to ensure that your current pets are up-to-date on vaccinations and spayed/neutered (we will not place one of our dogs in a home where there is another intact animal). If you do not have a pet, we will verify that the vet you have selected exists

3. If application is approved, we will schedule a home visit. All members of your family must be present.

4. After home inspection and upon approval, you will sign the adoption contract in order to transfer ownership, receive the dog's adoption file with all of its medical records, and pay the adoption fee. Standard Adoption Fees are based on the vet care of each individual Yorkie.

5. All decisions are made by the Board of Directors and are final. For additional information, you can contact Ms. Marilyn Dogwood, Florida Yorkie Rescue Chairman.

We are a not for profit organization and all of the fees that are collected go directly to the care of our dogs.  We are staffed entirely by volunteers and there are no paid organization members. Many dogs that are taken into rescue are in need of medical intervention in addition to the regular series of shots and spay/neuter. All of our dogs are seen by a veterinarian, are up to date on their shots, have been checked for heartworms, have been either treated or on preventative, and have been spayed or neutered prior to adoption. When other medical intervention is necessary, dogs are treated accordingly by a veterinarian. Examples may include heartworm treatment, treatment for skin conditions, treatment for ear and eye infections, cardio diagnostics, orthopedic evaluations and subsequent surgeries, etc. Therefore, depending on the dog and its condition, medical costs can often be excessive. Adoption fee's rarely cover all of the costs involved in caring for these dogs as a whole. Any amount that you can donate in addition to the fee is greatly appreciated. 

SUCCESSFUL APPLICANT MUST:

Provide a loving, humane and safe environment which includes keeping the dog as an indoor house pet for the remainder of his/her life.

Provide veterinary care including regular vaccinations, heartworm testing and preventative year round, and comply with all local laws regarding licensing.

We do not adopt our dogs to homes that have intact (not neutered or not spayed) animals.

Provide veterinary care including regular vaccinations, heartworm testing and preventative year round, and comply with all local laws regarding licensing.

Provide a safe, fenced in yard while the dog is outside supervised by you or a family member.

Agree to keep the dog on a leash when outside a fenced area and not allow him/her to roam free at any time.

Return the dog at anytime if the owner is unable to keep him/her for any reason or if lifestyle changes make the owner unable to maintain above conditions. Our yorkies may not be sold, transferred, or given to any  individual or establishment.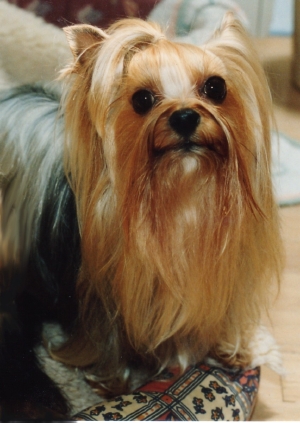 FREQUENTLY ASKED QUESTIONS

I want to adopt a Yorkie. How do I begin the process? Adopting a dog is no small decision. Please keep in mind that Yorkies are high maintenance dogs that need a lot of time and energy; not to mention grooming.  It also is a big financial commitment. The first thing you need to do is to fill out our online adoption application.

I just submitted my application. Now what?  Once the application is submitted you should be receiving an email from us verifying that we have received it.

How do I get approved? Our application process includes checking the vet reference and 3 personal references listed on your application. These personal references should not be related to you. If you do not provide personal references you application will not be processed. We will then arrange for a home visit.

How do you choose which family gets to adopt each yorkie? Please be aware that we get dozens of applications for each available yorkie. The young, healthy female is more attractive to most families than the senior male. Expanding your preferences and leaving an open mind to possibly adopting a male or an adult and or senior dog will only improve your chances of being matched with a yorkie.  Please keep in mind that the FYR board members will make the final decision where each yorkie will go with the help and guidance of the foster mom.

Is there an age requirement for adopting a yorkie?  Applicants must be 24 years old or more. At a young age, there are so many aspects of life that can change: a new career, a new home/apartment, a husband, children, etc. With these changes, dog ownership becomes challenging and sometimes impossible. Many of the dogs being surrendered to Florida Yorkie Rescue are coming in for exactly these reasons. It is unfair that we would put them back into a situation that is likely to change for them yet again. We are not insinuating that a young adult is a bad pet owner but just feel that re-homed Yorkies have very specific needs and it takes a very stable environment for them to thrive. We always prefer a well established house hold for our dogs. Children are not permitted to fill out our online adoption application.

Does FYR adopt to families with children? Because we are rarely given the complete background history of a rescue dog it is our policy not to adopt to families with young children under the age of 12. If you are looking for a smaller Yorkie your children must be older. Some of the larger dogs we get in will do well with children if the dog is young enough to adjust or was raised with kids previously. We do make exceptions for those types of dogs only. But keep in mind, many of our yorkies were surrendered to us because children are now part of the home and the dog is NOT adjusting well. Our foremost concern is for the safety of the yorkie, but also for your child's safety as well

What if I want to adopt one of your yorkies and I am located in another state? We do not ship our dogs out of state. No exceptions!

Do you have a shelter where we can come and meet the available pets? No. We do not have a physical location where you can meet all the dogs. All of the yorkies in the care of FYR are being fostered by volunteers in their own homes. The public is not allowed to come and visit.

I've submitted an Adoption Application for a specific dog but was not approved. What does this mean?As we stated previously we have many applications for each Yorkie and it is the goal of the FYR board to choose the best home for each dog. We will keep your application on file and call you when we have a dog we feel suits your wishes.

How much does it cost to adopt a yorkie? Adoption donations range from $100-$600, depending on the cost incurred for whatever Veterinarian care we deem necessary. (Spay/neutered, dental cleaning, vaccinations, blood work, surgery, etc). Each dog's medical needs are different.

Why aren't yorkies free? Don't they need good homes?  All dogs surrendered to rescue need to be seen by a vet for a check up and other required procedures. In order to continue to rescue yorkies in need we require qualified homes to help with their new family members expenses.

SURRENDERING ~ I need to surrender a yorkie. What do I do? Email us immediately at floridayorkierescue@yahoo.com.  Or you can complete an online SURRENDER FORM. We will have questions and requests for information. Please be patient with us as our goal is to get as much information about your pet so we can be prepared to care for them properly.

SIGNING LEGAL DOCUMENTS - Please be aware that once surrender papers are signed between person surrendering dog and Florida Yorkie Rescue, it is understood that all rights, title, privileges, and interest in the dog are now revoked. This revocation extends to all future decisions concerning this dog made by Florida Yorkie Rescue including medical and adoption requirements.

Deciding to surrender your pet can be a very emotional experience for both you and your pet. We at the Florida Yorkie Rescue would like to make that decision and the surrender process as easy as possible for you. Yes, surrendering your dog may be difficult but it may also be in the best interest of your dog.


We often see companion animals surrendered for several reasons:
1) Behavior problems (soiling, barking, separation anxiety).

3) Entering the Military.

4) New baby in the house.

5) The owner is moving to a place that doesn't allow pets.

6) The owner is ill or has died and family members cannot keep the dog.

7) The owner can no longer afford to pay for their yorkie's medical needs and Vet care.

If you as the owner or a family member is surrendering a Yorkie, we ask that he/she be surrendered with any Vet records as well as crates, toys, blankets, leashes and collars that they have used. Being surrounded by the dog's things can make them feel more comfortable during the adjustment period.

Also, we appreciate, if possible, to obtain as much information about the yorkie, such as his habits, personality traits, and any "issues" we should know about. PLEASE be honest as it helps to PROPERLY place your Yorkie in a new home.

Negative behaviors DO NOT mean we will not take a dog into rescue! What you perceive and what we perceive as negative are usually not the same. Many behaviors can be corrected. The more we know about your dog, the better we can work with them to resolve any problems before finding them the perfect placemen

SCROLL DOWN TO SEE OUR FREQUENTLY ASKED QUESTIONS.


Our focus is not finding the right yorkie for a home, but finding the right home for each and every yorkie.

"It's not a second chance, it's the chance they never had."