"It's not a second chance, it's the chance they never had."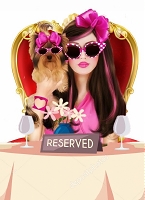 Holiday Festival and Fashion Show

Our yorkies will rock the runway in couture holiday fashions.

Sunday, November 10th, 2019

An afternoon luncheon will be served at the

Monarch Country Club,

1801 SW Monarch Club Drive,  Palm City, Florida

Tickets on Sale in September.

All small well behaved furbabies (under 15 lbs) are welcome to attend with their parents if they are confined to a carrier, stroller, sling or lap. Furbabies paws will not be permitted on the club house floors. An outside Potty Patch will be provided.

If you have holiday items for sale and would like to rent a Vendor Table you can fill out the following Vendor Application to be considered. We are limited in space and will not be able to accept all who apply.

Florida Yorkie Rescue will also be displaying for sale our own small dog holiday and every day clothing apparel, Sparkle Specs, Snuggie Sacks and handmade holiday wreaths. We prefer to find vendors that will not be selling the same items however other dog accessories will be welcome depending on what they are. Not everyone who attends our fashion shows actually own furbabies so other holiday items for sale will most likely sell well.

We are going to offer two different size vendor tables at different fees. The fee will include your ticket and meal.   Florida Yorkie Rescue does NOT take a percentage of your sales. Stay tuned for additional information on table sizes.

All Vendors must pay by September 10th. Unfortunately once we hold your space, if you cancel at a later time we cannot issue you a refund.

Each table will be located on an outside wall. You may have a window behind you or a blank wall.  You can set up a backdrop or stand but nothing can be adhered to the club house walls or windows. Also, not every table will have direct use of a wall plug for electricity. If you need one, please tell us in advance and we will let you know if we can accomodate you.