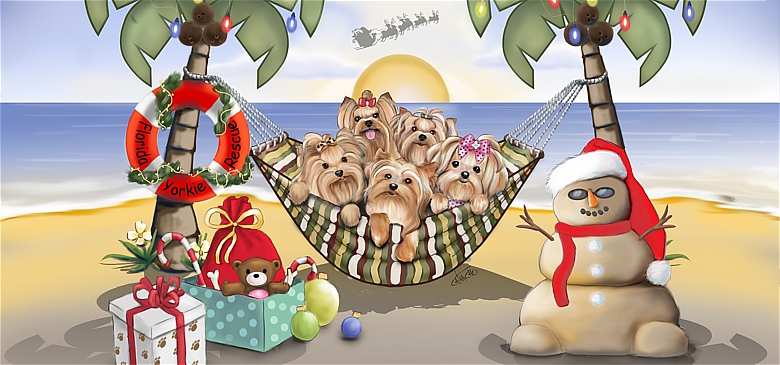 "At the end of every leash is a best friend..."

www.FloridaYorkieRescue.com

OUR MAILING ADDRESS:

FLORIDA YORKIE RESCUE, INC

2740 SW MARTIN DOWNS BLVD. #205,

PALM CITY, FLORIDA 34990

CHECKS PAYABLE TO: FLORIDA YORKIE RESCUE

Please help Florida Yorkie Rescue continue our work.

It's not JUST about paying the medical expenses for the dogs that come and go... but for all the dogs that remain behind for months and even years with special needs requiring expensive medical care.

For those of you who visit our pages on Social Media, you know how many heartbreaking case we accept into our program. With each new arrival, our purse strings are drained considerably but in many cases our Rescue is the last hope for these dogs. Unfortunately some of those heartbreaking cases end up remaining in permanent foster care because they are too old or they require special care and medical maintenance. We have made a committment to these precious ones to provide care for the remainder of their lives. If Florida Yorkie Rescue did not take these dogs it is not likely anyone else would have. We believe every life is worth saving. We know you do too. Can you help us in OUR time of need? Thank you.

CLICK HERE TO MAKE A

SINGLE DONATION

YOUR DONATIONS ARE TAX DEDUCTIBLE.

LAST YEAR WE RAISED $17,987.00.

WOULDN'T IT BE FABULOUS IF WE COULD BEAT THAT NUMBER THIS YEAR? CAN WE?

Macey's  total medical expenses - $1,459.67
Macey arrived as a 5 month old puppy in October 2013! she is full grown now and the sweetest dog you'll ever meet. Her back legs don't work well and sometimes she will slide herself along the tile floor. This was a condition she was more than likely born with and could possibly be Spina Bifida. Other times she can get her legs underneath her and she will run like the wind. She doesn't have any control over her bladder and needs to wear diapers. She is currently not on any medication but  can ocassionally get Urinary Tract Infections. She is still waiting for a loving new home.

LIST OF DONORS BELOW PHOTOS


DONOR LIST:

Debbie Malloy

Bob Malloy

Nicole Lytton

Rosa Pena

Suzanne Johnson

Kathryn Tillman

Laura Phillips

Deena Sloan

Ann Rylance

Jaimee Jones

Nicole Harmon

Linda Davenport

Linda Koren

M. Robin McGraw

Paulina Molinoff

McGraw Properties

Barbara Rose

Cheryl and Scot Gentry

Diane Fanelle

Mercy Griffin

Christie Allman

Carol Schmaltz

Cheryl Crabtree

Pamela Norwood

Deborah Patrick (in memory of Krikette)

Bonnie Taylor

Ginny Azizi and family (in memory of Zorro)

Candace Martin

Terri Boggs

Joseph Alatorre

Elizabeth Gudheim

Camille Milan

DONOR LIST:

Genaro & Shirley Martinez DeVilla

Margaret Rooney

Courtney Karem

Kim Keller

Diane Marvin

Dawn

Debra D. St. Clair

Tammy Quach

Michelina Hume

Nicole Lytton

Stephanie Slack

Tracey Hill

Catherine Morgan

Johnnie Corder

Paulette Sandage

Kathiy Baldi

Michelle Fenton

Danielle Lawrence

Antionette Mack

Craig & Gail Hollenback

Holly Riney

Christy Allman

Antionette Mackowiac

Florida Yorkie Rescue was called upon to rescue yet another Puppy Mill/Hoarding situation in April 2018. More than 25 Yorkies & Malteses were pulled from the home & have all now been adopted.

This little guy was at an animal facility and was about to be euthanized when we received the call to see if we wanted to rescue him. We did. He had many serious medical problems and in the end we were not able to save him. But he did had several great months feeling loved.

Click onto the drop down menu to choose your amount.

F.Y.R. rescued a special needs Maltese from a hoarding situation in 2018. She suffered from Hydrocephalus (water on the brain) but after much medical care she was successfully adopted.

The above video is a collection of some of the dogs we have taken into our Rescue Program over the past several years and how they must have suffered before we rescued them.

If you have been following Florida Yorkie Rescue over the past several years then we are sure you will remember the story of Sam who we were privileged to meet and to care for.