"At the end of every leash is a best friend..."

www.FloridaYorkieRescue.com

OUR MAILING ADDRESS:

FLORIDA YORKIE RESCUE, INC

2740 SW MARTIN DOWNS BLVD. #205, PALM CITY, FLORIDA 34990

Please help Florida Yorkie Rescue continue our work.

It's not JUST about paying the medical expenses for the dogs that come and go... but for all the dogs that remain behind for months and even years with special needs requiring expensive medical care.

For those of you who visit our pages on Social Media, you know how many heartbreaking case we accept into our program. With each new arrival, our purse strings are drained considerably but in many cases our Rescue is the last hope for these dogs. Unfortunately some of those heartbreaking cases end up remaining in permanent foster care because they are too old or they require special care and medical maintenance. We have made a committment to these precious ones to provide care for the remainder of their lives. If Florida Yorkie Rescue did not take these dogs it is not likely anyone else would. We believe every life is worth saving. We know you do too. Can you help us in OUR time of need? Thank you.

YOUR DONATIONS ARE TAX DEDUCTIBLE. LAST YEAR WE RAISED $12,400.00.

WOULDN'T IT BE FABULOUS IF WE COULD BEAT THAT NUMBER THIS YEAR? CAN WE?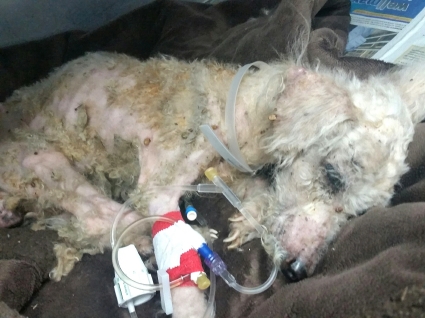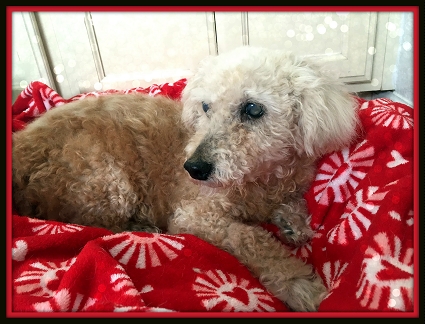 Sam's total medical expenses to date - $6,262.62
Sam was tied to a fence in a deserted area and left to die. His medical care has been extensive to bring him back to good health. Sam is still looking for a home. He is a senior poodle who is blind and has difficulty hearing. He is on daily eye medication for Dry Eye and Glaucoma. He also has kidney stones. Grade Two Heart  Murmur and an enlarged spleen.  He is completely pee wee paper trained. 
Sam's Video.
Rigby's  total medical expenses to date - $7,356.17
Rigby was only a puppy when he first arrived and was seriously ill with a heart defect. He has since received life saving heart surgery but still required daily heart medication. He was also born with a deformed back leg which cannot be removed. It doesn't cause him any difficulty walking. He is a precious little boy that is desperately looking for a new loving family. He requires a calm quiet home.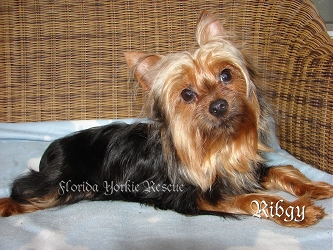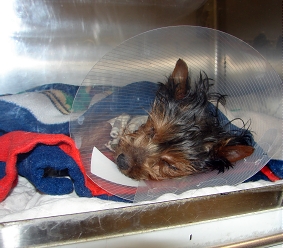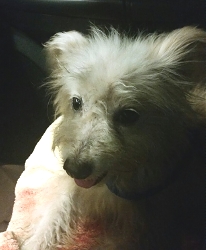 Magnolia's  total medical expenses to date - $3,717.14
Magnolia was found abandoned next to her crate on the side of the road. She was filthy, malnourished, pregnant and heartworm positive. She gave birth to four puppies of which two died. After her puppies were weaned and adopted, Magnolia was spayed and then treated for her heartworms. She is a very sweet girl (probably a Maltese/Papillion mix). She has Irritable Bowel Syndrome which is managed with diet.  She had a dental cleaning and a mammary gand tumor removed in November 2016.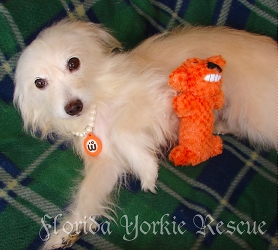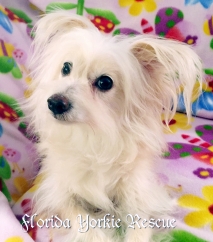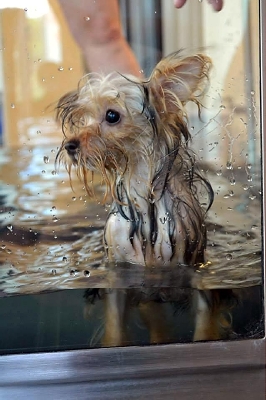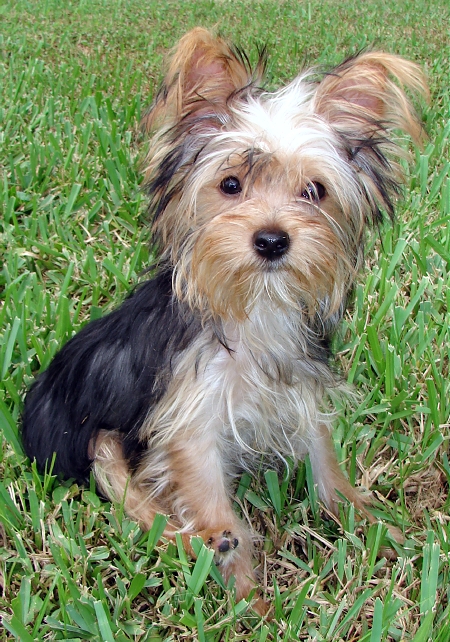 Macey's  total medical expenses - $1,459.67
Macey arrived as a 5 month old puppy in October 2013! she is full grown now and the sweetest dog you'll ever meet. Her back legs don't work well and sometimes she will slide herself along the tile floor. This was a condition she was more than likely born with and could possibly be Spina Bifida. Other times she can get her legs underneath her and she will run like the wind. She doesn't have any control over her bladder and needs to wear diapers. She is currently not on any medication but  can ocassionally get Urinary Tract Infections. She is still waiting for a loving new home.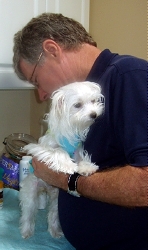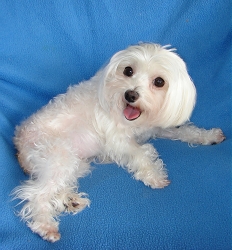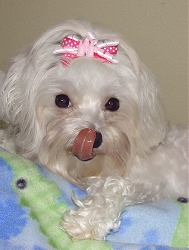 Tootsie's  total medical expenses - $7,499.25
Tootsie was born in April 2009 and has been in our permanent Foster Porgram for most of her life. The Vet She was born without a tail and the deormity left her incontinent and prone to e-coli infections of her colon. She has had to have multiple ultrasounds over the years. She has multiple abscesses, pockets of fluid and a fistula in her colon. In 2012 she had to have surgery to remove a mass next to her colon. She also has struvite crystals in her bladder and is on a special diet.  Tootsie continues to struggle at times with reoccurring infections and is currently taking two antibiotic, one administered by injection (one bottle cost $350.00) once a day and the other is a liquid antibiotic taken three times a day. Based on trial and error this cocktail of antibiotics is the only thing that is currently working for her but they are expensive. With that said, for the most part she continues to enjoy a happy life. She is a very sweet and affectionate little girl and her foster Mom adores her.  She also must wear diapers and those diapers can get expensive as well. So any monetary donations made out in her name would be greatly appreciated.

LIST OF DONORS BELOW PHOTOS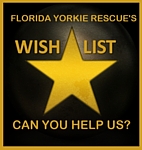 DONOR LIST:

Jackie Casas, Delray Beach, Florida

Dalila Eljaua , Punta Gorda, Florida

(In memory of Dolly, Worf, Sheba, & Gizmo)

Terri Boggs, Orlando, Florida

Lara Williamson, Villanova, PA

Donated towards Sam's medical expenses

Carolyn Stromberg 

Donated towards Sam's ongoing medical expenses.

Trinh Lively, Orlando, Florida

Julie Atwood

Meg Wilkinson, Plattsburg, NY 

Donated towards Sam's medical expenses.

Theresa Cavazos , San Clemente, CA

Donated towards Sam's expenses.

Helen Hurley

Donated towards Sam's ongoing medical expenses.

Antionette Mackowiak -  Tampa, Florida

Diane Marvin -  Sewells Point, Florida

Linda worsham -  Vero Beach, Florida

Wendy DePinto -  Palm Beach Gardens, Florida

Paula Gossett -  Port St. Lucie, Florida

Mercede Griffin -  Orlando, Florida

Christie Allman - Port St. Lucie, Florida

Michelle Schutte -The Villages, Florida

Stephanie Slack

Lori Hoover

Georgia Drimones - Ft. Myers, Florida

Erin Dill and Family (Rocco and Bruno too)

Deborah Ward

Dorothy Brink

Mayra Perez - Chicago, IL

Belkis Medina

Lisvet Garcia Cordeiro - Germany

Angela Gunter

Kassandra Castillo  - New Port Richey, Florida

Carol Brown - North Port, Florida

Estelle Chin, Taco & Minnie - Los Angeles, CA

Cheryl Crabtree - Staples, Texas

Mary Suzanne McCue  - Palm Coast, Florida

Sarah Althaus

Mary Weber - Seffner, Florida

Phyliss Cassidy - Ocala Florida

Roline Guerrier

Jian Licht

Christina Mayoka

Danielle Herbert

Donna Hood - Wetsville, Florida

Lisa Marie Izquierdo  - Elmhurst, NY

Nancy Capers - Naples, Florida

(Destinys Nana Reborns)

Gary L. Jones, Sr. and the Jones Family

Dan Blumer

Mayte Arias Arias  - Spain

Allan and Somer Carr - Montgomery, AL

Anonymous Donor

Maria Kerrigan - Fort Lauderdale, Florida

Maria Cataldo - Glen Cove, Florida

Karen Fitzgibbons

Darla Ramey  - Liberty, SC

Kelly Bennett

Judith Hipper - Palm Bay, Florida

Julie Yim

(Toto, Lillie, teo, sky and best roast coffee family)

Natasha Harp

Paris Images Screen Printing

Lisa Dillman

Felicia Tittle - Creedmoor, North Carolina

Paul Herchen

Antionette Mackowiak - Tampa, Florida

Scott Bolles - Anchorage, Alaska

Francesca Cozzi

Judy Olson - Forest Lake, MN

Diane Lalli - Poinciana, FL

Julie Atwood

Whitney Chaney - Knoxville, TN

M. Jean Sherwood - British Columbia, Canada

Dianne Schultz - Donation towards Precious

Karen Cossio

L Forbes - Upper Hutt, New Zealand. For Sam.

Rola Saghir - Phoenix, AZ

Diane Marvin & Woody Lancaster - Sewells Pt. FL

Teri Tufano & Lovie - Port St. Lucie, FL

Ron, Mary, Sara, Reese Kesterson

and Beau & Bubba - Houston TX

Jeanne Sexson - Leesburg, Georgia

Rosemarie & Robert Gray - New Kensington, PA

Barbara & James Helms - Pensacola, FL

Cindy Marks - Hollywood, FL

Danyel Moosmann

Noreen Jewett - For Sam's ongoing medical care.

Ryan Young - Canton, Michigan

Teresa Bradshaw - Douglas, Georgia

Wendy Fuhrmaneck  - Mount Pleasant, SC

Simone Domingues - Miami, Florida

Gail O'Leary

Laurie Dixon

Karen Vissepo  - Surfside, Florida

Maria Anton - Long Island City, New York

Stephanie Slack

Monique Koven  - Quebec, Canada

Diane Fenelle - Palatine, IL

Christine M Dierickx

Holly Freeland

Adele Pittman - Vero Beach, Florida

Kathryn Tillman

Melissa Parker

Petr & Faye Malench - Sarasota, FL

DONOR LIST:

Gale Sittig

Cheryl Gentry - Clarkston, Michigan

Janet Howe - Lake Worth, FL

Nicole Lytton - New Market, Virginia

Judy Fortner

Suzanne and Johnny Johnson, Florida

Terri Boggs -

Cheryl Scrupski  - Palm Bay, Florida

Jill McKinnon

(Donated towards Sam's medical expenses.)

Dana Bellino

(Donated towards Sam's medical expenses.)

Nancy Beth Kamhi  - Nutley, New Jersey

Jeanie Wallace

Jacqueline Varley  - Deltona, Florida

Cristina Isabel Vasquez - Boston, Massachusetts

Ken Bergmann - Jupiter, Florida

Carole Kiernan - Jupiter, Florida

Margaret Cipolla - Cleveland, Ohio

Dalila Eljaua  - Punta Gorda, Florida

Yvonne /Monkey Alvarez  - Huntington Beach, CA

Lori Palmer - Adams Center, New York

Terry Marine - Miami, Florida

Nina's Decor - Kara & Miss Prissy Pants

Mayte Arias Arias  -  A CORUÑA, Spain

Elizabeth Gonzalez  - McCordsville, Indiana

Gretchen Portwood

Richard Kemprich,

Jason, and our yorkies Penelope & Gia

Elizabeth Robbins  - Jacksonville, Florida

Stephanie Barclay

Jennifer Laker -

Vicki Ray - Stockton, California

Zhuo Yu, United Kingdom

Corinne Hillman, Fort Lauderdale, FL

Iris Williams, North Venice, Florida

Grace Bradley

Betty Wilkins - Texas

Pam Hallman - Tampa, Florida

Janet Bills - Valparaiso , Florida

Kayla Foy , Kinston, North Carolina

Robert & Wendy Rapisardi Jones - Stuart, FL

Susan Todd - Ford, New Jersey

Diane Perciballi - Upper Brookville, NY

Adrianne Farrar & Mikey Darden, Deland, FL

Carole Kiernan - Jupiter, Florida

Mary Corbin - Vero Beach, Florida

In memory of our Sweet Sarah.

Thamara Policard -

For Miss Lola's orthopedic surgery

Sandra Tidd

Helen Plowy - Bemus Point, NY

Tomi Ramsour  - San Jose, California

Barbara Yañez Wrighton  - Chile

Laurie Levinberg

Craig Hiscox

Francesca Cozzi

Stacy Adcock  - Huntersville, NC

Tammy Quach

Tanya Hartner - Canada

Jessica Hayes - Dublin, PA

Alegria Hernandez - Oakdland, CA

Vickie Carnley

Zita Boehm - Palm Beach Gardens, FL

Thomas Conlon

Yanette Vega

Kimberly Andrews - In honor of Sunshine.

Sandi Miller - Columbia, South Carolina

Slylina Walsh

Carmela Salvato

Cecil Robinson

Roger Peacock

Barbara Duncan

Angela Walstad - Garrettsville, OH

Matthew Bial

Odalys & Oswaldo Betancourt  - Miami, Florida

Evelyn Stubing  - For the medical care of Sam

Carlee Johnson - Lakeland, FL

Patrick Fama - Sudbury, MA

Kathy Baldi - Boynton Beach, FL

Judith Lisa and DJ - Wayne, NJ

M. Robin McGraw - Deepwater, NJ

Linda and Frank Koren - Darien, CT

Tom & Tracey Hill - Plantation, FL

Estella & John Mendoza - Orange, CA

Steve & Diane Vassallo - Celebration, FL

Carmella Edmundson - Olmsted Falls, OH

Michelle Acosta  - For Sam

Georgia Drimones

Mark Aguilar  - Lakewood, California

Robin Clancy

Veronica Rodriguez

Aimee Verzi

Karen Cossio

Joanne Vogel

Sandra Spencer - Ontario, Canada

Kassandra Castillo  - New Port Richey, Florida

Mary Russo - Orlando, Florida

Vicky Stokell - United Kingdom

Mindy Conner  - Port Charlotte, Florida

Caitlin Smith - Jacksonville, Florida

Julie Kessler - Douglas, MA

Johnie Corder & Paulette Sandage - Park Ridge, IL

Kayla Foy - Kinston, North Carolina

Lawrence Webman  - New York, New York